Girl Power is the winner
A Shropshire apprentice has proved Girl Power is a winning mantra by claiming one of the main prizes at the In-Comm Training Awards.
Caterpillar Shrewsbury's Lauren Ball, who is one of the first apprentices in the country to be trained at the Marches Centre of Manufacturing & Technology in Bridgnorth, was named as Learner of the Year for In-Comm Academies Engineering.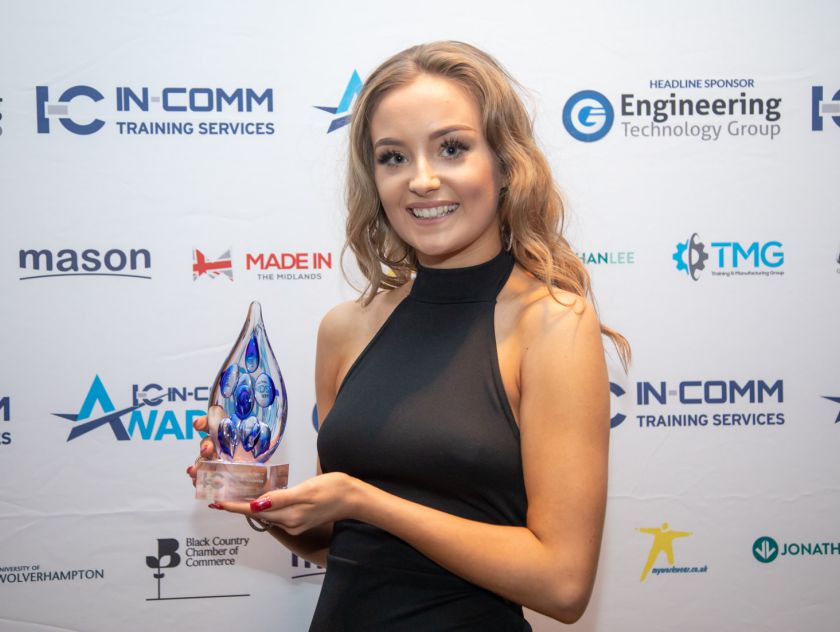 Despite being the only female in her first cohort, judges were impressed with her appetite for new challenges and the way she often leads from the front, carrying out every job to the best of her ability.
She has also played a prominent role in promoting apprenticeships, and has been interviewed by national newspapers, radio and TV.
Bekki Phillips, joint managing director at In-Comm Training, said: "There has been a lot of media debate about the effectiveness of the Apprenticeship Levy, but one thing that is not in question is the important role we all play in developing the engineers of the future.
"Apprenticeships offer a fantastic way for companies to develop their own staff and for young people to become competent craft and technical engineers by being exposed to all levels of education and a host of practical scenarios.
"If they go all the way to degree level through this route, they'll also save £100,000 on average when compared to people going to university.
"The In-Comm Training Awards are designed to showcase the best vocational learners in the Midlands, highlighting individuals who have gone above and beyond, mentors that have given blood, sweat and tears in developing their younger members of staff, and employers who have put their money where their mouths are. I'm delighted that Lauren won one of the prizes. She is a fantastic ambassador for women in engineering and will go on to have a great career in industry."
Female apprentices definitely had the edge in 2018, with Integrated Water Services' Laura Thacker named as the Most Improved Learner of the Year, and Maria Collins (IMI Precision) securing the Outstanding Learner of the Year and Peter Wood Memorial title.
Over 350 people attended the In-Comm Training Awards, held for the first time at the ICC in Birmingham, and guests were given an insight into life behind the scenes of Robot Wars by Grant and James Cooper, before being entertained by Black Country royalty in the shape of Doreen Tipton.
Sponsors for the evening included Black Country Chamber of Commerce, B Mason & Sons, Classic Motor Cars, Grainger & Worrall, In-Comm Training and Manufacturing Group, Jonathan Lee Recruitment, Made in the Midlands, My Workwear, Salop Design & Engineering and the University of Wolverhampton.