Million-pound investment for engineers of the future
Engineers of the future now have the chance to train on equipment designed for the 'fourth industrial revolution' thanks to a £1 million investment at Shrewsbury Colleges Group.
It is largely due to £500,000 in funding from the Marches Local Enterprise Partnership, via its growth deal to develop advanced manufacturing training hubs in the region.
The college added a further £250,000, and with gifts from a number of other companies, including Status Metrology, who put £100,000 towards metrology equipment and software for the college. The total value of new equipment and software for the department totals around £1 million.
The latest addition, the Festo FMS 'product manufacturing factory', worth over £125,000 alone, was shipped over from Germany.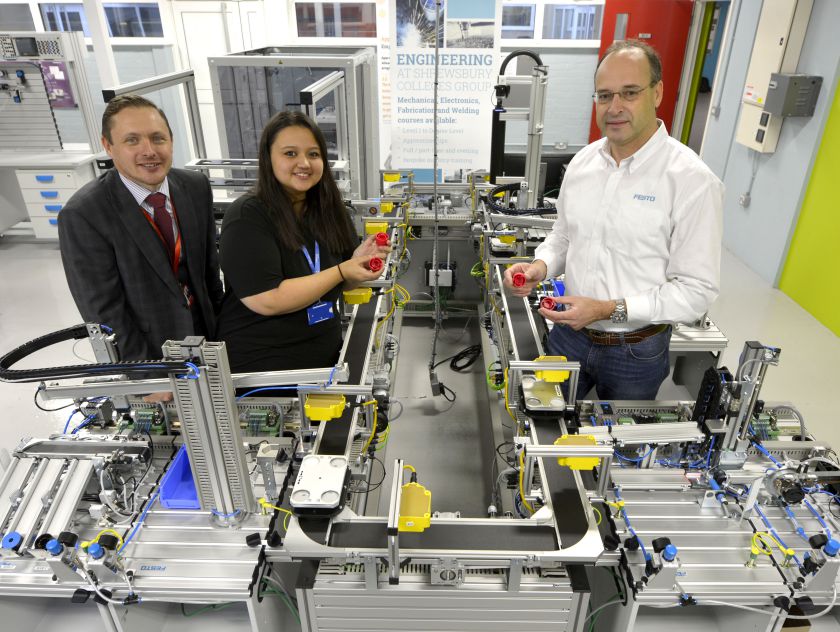 It means the college is now the first training provider in the world with what is known as equipment from 'the fourth industrial revolution' or Industry 4.0 Technology.
The system, described as a 'smart factory that fits within a classroom setting' has wireless connectivity and includes nine stations for distribution and testing, product handling and processing, robotic assembly and automatic warehousing.
Andrew Lee, head of engineering, said: "The FMS system will offer enhanced training for engineers of the future in engineering technologies and industrial centre processes, including areas such as hydraulics, pneumatics, PLCs, process improvement, quality systems, robotics and automation, to name but a few.
"We are the first training provider to secure this equipment outside of Germany. We have an established relationship with Festo through the WorldSkills competitions and it's also thanks to our partnership with the LEP and the fact that we are now one of the largest and best-equipped engineering and automotive centres in the region."
Principal of Shrewsbury Colleges Group, James Staniforth, said: "The investment has already had a big impact on the department. Several students who have been training on the new equipment we have already installed made it into the final of WorldSkills UK.
"Our relationships and partnerships with local businesses have strengthened and we have increased the number and type of apprenticeships we are offering both local and multi-national companies, to enable them to train engineers with advanced skills to best suit their developing business needs.
PICTURE: Andrew Lee, curriculum leader for engineering at Shrewsbury College, Belinda Nightingale, technical apprentice at Ricoh and Babak Jahanbani, didactic manager for Festo Great Britain.