Students have Premier opportunity
A series of specially-developed apps is supporting students from a Shropshire college in their learning and work placements and helping them to find employment.
Student Adam Gill, from Oswestry, is a hospitality and housekeeping student at specialist further education college Derwen College in Gobowen.
He will be finishing his time at the college this month and has already secured paid work at Premier Inn in Oswestry on leaving. Adam uses a specially-developed app to prompt him with the routine required to make up a room to industry standards. He has also downloaded the app to his mobile phone to enable him to work independently
Adam is one of 43 learners who have had work placements at hotel chain Premier Inn during their time at the college for young adults with special educational needs and disabilities (SEND) near Oswestry.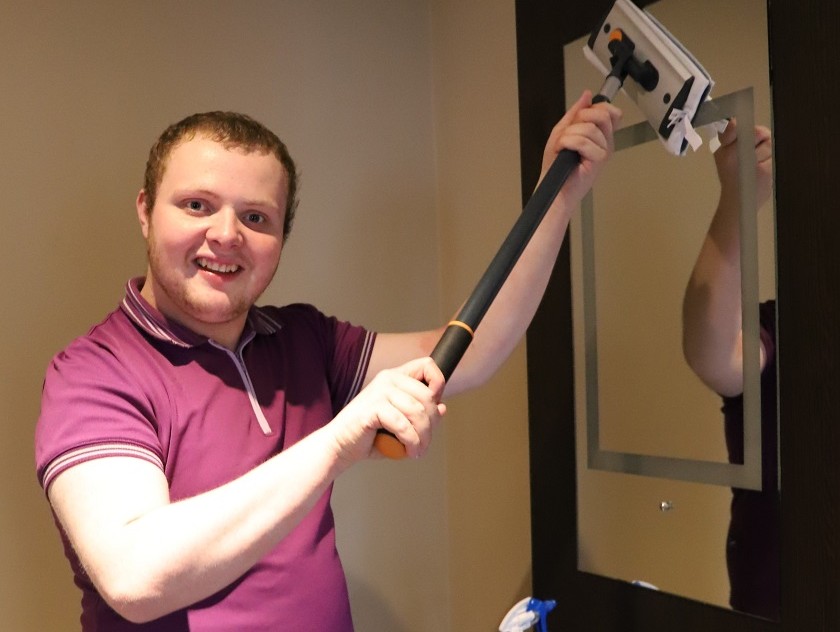 They have been using the specially-developed new apps to support their work at the college's training hotel and off-site Premier Inns.
The college has built up a strong relationship with Whitbread-owned Premier Inn which supported the college in creating a three-bedroom training hotel on site. The hotel chain also provides work placements for students including at their Oswestry, Shrewsbury, Chester and Wrexham hotels.
Derwen College has reported that just under half (47%) of hospitality and housekeeping students who have had work placements at Premier Inn are already in work at the hotel or have secured paid work after leaving college.
The app is part of an innovative project which was match-funded by The Marches Local Enterprise Partnership (LEP). Finance for the series of apps and supporting website hub was awarded to the college via the LEP's Growth Deal for capital skills projects. The college collaborated with Oswestry marketing and digital design company Hunter Bevan Ltd to develop the apps.
The college has developed apps for phones and tablets which prompt students with easy-to-follow instructions broken down into individual 'routes' such as stripping and making the bed or cleaning the bathroom. These prompts can be viewed on tablet or mobile as a video with audio instructions, with written words and pictures or written words and Makaton sign language symbols, depending on students' preferred method of learning.
Derwen College's innovative work was recognised when the college was named as a finalist in the prestigious Shropshire Chamber Business Awards in the Technology, Enterprise and Innovation category.
Neil Bevan, director of Hunter Bevan (and 'industry champion' for the college), said: "We share a passion for the work of the college and its place in the community, and in finding supported employment for students. We were keen to work on this exciting project and would like to be part of the ongoing Derwen College success story as they move forward with this innovative programme."
Pictured: Student Adam Gill from Derwen College